I fly towards the sand pits across the border, the fields look like theyll work better there and the F-16s dont normally fly across into german airspace. I spend a lot of time at about 800m bouncing around and gradually get within glide range of the towfield. I continue to lose height so I head off to the heather field which is on the other side of the road opposite the towfield. Its in full bloom and looks beautiful in this weather and usually a good thermal source as long as you dont fly directly above it.
Thermal strength is reasonable once you are in it and varies between 1 and 2m/s, the technique was to bank it low and stay in the area if I lost the thermal as generally a second thermal would come through shortly after. Heres my variometer trace below :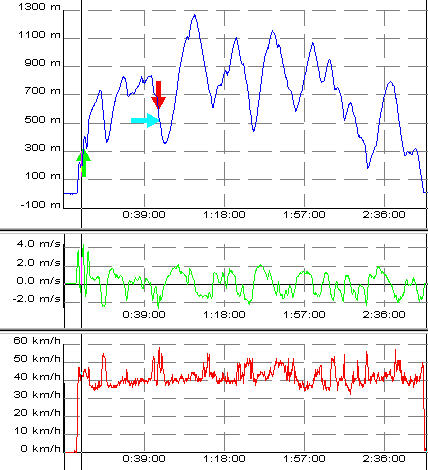 Click on for a larger view
heading towards those sand pits
View downwind - not a cloud in sight
As I get to the treeline surrounding the heather field Im down to 180m but well within circuit range of the towfield. Below I can see a small raptor with a blackbacked wing, in English a Hobby in dutch a boomvalk in latin Falco subbuteo, it is turning really sharply, so steep an angle and with such sweptback wings that at first I think it is a large swift. I decide to circle over it and hit a strong 3m/s thermal so I decide to copy the bird and crank the glider over as much as Ill dare. I spiral up like a cork from a bottle with the hobby coming up fast from below.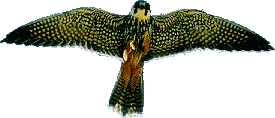 A Hobby or Boomvalk (in dutch) viewed from below
Click here to see a photo of a Hobby (Boomvalk)
Click here to see a photo of a Hobby flying
At about 400m we are joined by a large, white fronted buzzerd who flies at the tip of my wing. Im in awe. I increase the angle of my turns so I can keep a good eye on both birds, I dont care if I am thermalling inefficiently as long as I can watch these birds. The aerial display last until we get upto 800m at which time the buzzerd has seen enough and thermals slightly above me, widens his circles and then heads off, the hobby flies off in another direction. I manage to get upto 1100m again for the umpeenth time. The sheer joy of flying in such a way with wild creatures constantly amazes me, Ill never take it for granted even though its happened to me many times, every time its just so special.

The common buzzard
One of the PG guys is on tow and I fly a wide berth to avoid him, I fly back to the heather field and would you believe it at about the same spot, 240m this time I hit yet another thermal. Im rising slowly but steady and I wave for the PG to join me (my battery went flat) as the thermals drift will take me across the towline, he merrily steptows again back into the sink as I have to give up the thermal to avoid the rising cable. He steptows again and releases high but in a sink cycle he will be on the ground again only five minutes after I am. Due to the high maize I decide to land near the winch and do I nicely timed no step landing, not bad after 3 hrs flying. If memory serves me right I think this is my longest ever flight at Bruinehaar.
A GPS trace of the flight